Based on the comments, I think I need to clarify my meaning in my post from Friday on cross training. I'm not against cross training - in fact, I'm all for it. I could never run 6 days a week, 52 weeks a year - I get massively burnt out on much less. I love bike riding, classes like Body Attack, zumba, yoga, doing Jillian Michaels DVDs in my living room, etc. All those types of exercise and any other kind you can think of are obviously going to be good for you, and there's your science lesson of the week, you are welcome.
I was trying to get across that if you are training for an event in one thing, you should really do mainly that thing. I'm not going to run 50 miles a week in order to train for a Strongman or skeet shooting competition, so I don't really get the people who do crossfit four times a week to train for a marathon. I thought spending 3 hours and 15 minutes on a triathlon last weekend would kind of count as JFK training, because, you know, I was racing, my heart rate was up, my muscles were burning, but turns out biking and swimming don't really do squat to prep you for running long distances. I really just had to get that out there in case my hero Jillian ever finds this blog, it's important I set the record straight.
In other news, it seems like I was just giddily skipping off to the bar midday to celebrate summer's arrival, and now it has come to an end.
This is my life. Foods that require microwaving are not an option.
Perhaps it's a good thing that I am returning to the ranks of productive members of society, so my lazy ass will be forced to get out of bed prior to 8:30 am, and I run before the temperature reaches "pure hell". I slept in again on Saturday, and paid for it dearly for 10 miserable miles.
Here's another random thing: I experienced the ultimate Fatty McFatpants moment this weekend.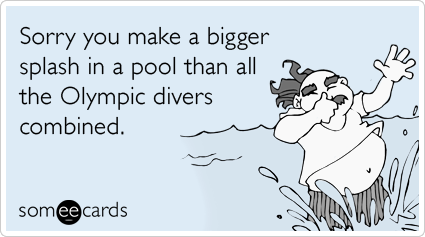 I was relaxing on the couch Friday night, covered in compression gear, which we all know is the only acceptable condition after an 18 miler (other than lounging at the pool, which my day also included). I was innocently watching season 3 of The Office, simultaneously laughing out loud and crying about how the new seasons are so sub par without Michael Scott.

With my reruns, I enjoyed a frozen dark chocolate bar, because we all know chocolate is better out of the freezer (mainly because you don't risk losing any due to melting). Suddenly, I spit out a piece of my tooth. Yes, I was so deeply into eating my chocolate, that I broke my tooth on it. No picture #proof, because that's just nasty.
I was so horrified, I haven't had any chocolate since then. Considering the title of my blog, 48 hours without chocolate is significant.


Ever had an embarrassing Fatty McFatpants moment?

It would really make me feel better to read some.