So far, summer is off to a fantastic start. After our exciting murder mystery date Sunday night, I crashed at by 10:15 pm and slept for a glorious 11 hours. Is there anything better than not setting an alarm on Sunday night? I think not. It even alleviated some of my crushing depression over not having a new Game of Thrones episode to watch.
Unfortunately, I had to spend the majority of my first day of summer doing grad work. I was really tempted to throw a giant "IT'S NOT FAIR" tantrum, because it's SUMMER, and I'm not supposed to be doing HOMEWORK. Not to mention that all that freaking thinking was exhausting. I mean, I'm already trying to keep track of all the Game of Thrones characters here.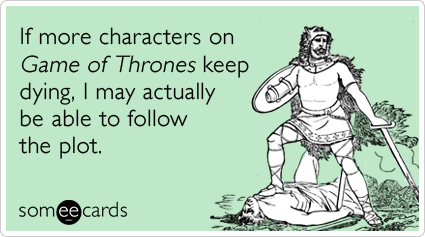 The class I'm taking is a leadership class, so I was reading all about business models and stuff like that. Then, I had to attend a meeting at the running store I work at, and they were sharing all sorts of business-y stuff too. I practically went to business school yesterday
, I feel I should be awarded an honorary MBA.
I had a meeting for my running store job at 8pm, and my friends/fellow employees Matt (who just started a blog!) and Katrina agreed to meet for a running date beforehand. Running dates are few and far between these days, so I was super excited for it. I've been a little lacking in the motivation department, so this didn't come a moment too soon.
To make things even more exciting, I got a text from my friend Perry, saying that he way home from NYC with his wife, and wanted to meet in Baltimore for a run. I met Perry through Kara, so he lives about two hours away and I don't see him much. We both ran the terrifying Stone Mill 55 miler and both he and his wife Crystal waited hours for me to finish. So far in my experience, when you do an ultra with somebody, you forge a special lifetime bond.
So things were all great, until I looked around at our little group when we were ready to begin and realized that everyone had a marathon PR at least 15 minutes faster than me, and I'd been extra slow lately. Luckily, they took it fairly easy on me and we did 7 miles along the water at about a 9:15 pace.
I've gotten a LOT of comments about Eric's suit from my post yesterday (both of the blog and in person variety). He's had that suit since long before we met. He not only had already worn it earlier in the week (to his school's 8th grade graduation), but on many other occasions. Most notably, my mom's wedding in 2007.
He also wore it to my friend Nikki's wedding in 2009.
It was our first wedding after we were married that had our table listed as "Mr. and Mrs."
So there you have it, he didn't specially rent it to be the most professional pornographer or anything.
I'm not running today in order to rest up for tomorrow's big 30 for 30 event. I plan to take it super easy, walk breaks whenever I want, and the only goal is to cover 30 miles before I get the party started.
What makes you want to throw an IT'S NOT FAIR tantrum?