As if I wasn't freaking psyched out of my mind for this weekend, my sister sent me more motivation to get there ASAP.
Then my mom sent me the behind the scenes view - on her new iPhone! I felt pretty special that they put so much work in for me.
Getting a smile isn't easy sometimes

Unfortunately, the weather isn't being quite as cooperative. The race is Sunday. 30% chance of major chafing in our future.
Today I did another easy 7, no watch or music or anything electronic. I swear I've been dehydrated since San Francisco. I can't seem to get it under control.
I'm going to take a second to rant. Sometimes blogs say things like "feel free to skip it and scroll down", which usually makes me think "apparently you aren't aware of this, but I always feel free to do that if I am bored with what you're saying".
Teachers are required to get a master's degree in some states, Maryland being one of them. I guess the idea is to make us better at our jobs? Except, teaching isn't like engineering or something, where extra education helps you learn more about your specific specialty, unlike working with children, which no amount of classroom education prepares you for. Maybe. I don't really know anything about engineering, but you get my point.
What this boils down to is that last night, I really wanted to stay late at work to do crazy things like plan lessons to teach my class and interventions to help kids work on skills they are weak in. But I couldn't, I had to rush out of work shortly after the kids to make it to my grad class on time. Then I sat there for three hours listening to.....theories. Abstract theories. Which was super helpful, because if there's one thing I know, it's that kids always behave in the way a theory developed in the 1800s dictates they should.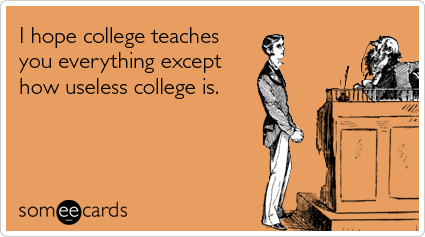 So I'm getting this masters, which means that I've spent countless hours writing papers, sitting in a classroom, or some other pointless activity instead of my actual job. And I get to pay for this privilege!
In thanks for reading my educational policy rant, here's something hilarious. Read the reviews for this product. Watch out though, it's incredibly addicting.
Did your education prepare you for your career?

I certainly learned a lot about how to make bulletin boards look pretty and a classroom library look inviting in college. Not so much about what to do with things like students writing death threats about you on the side of the school building.