I'm pleased to report that after the mental trauma I experienced not being able to watch The Office finale in real time on Thursday, it was available on Friday. Spoiler alert - Michael Scott had a cameo, aka all my television dreams came true. That night. Let's not even discuss what torture the Game of Thrones producers are putting me through.
I'm gearing up for marathon #2 within a 2 week span, so I'm in that weird interim period where I have no idea how much to exercise or not exercise.
UGH, I hate exercise.
One thing I do know is that I'm chugging water like a freshmen with beer at her first frat party. In fact, it might be a good idea to do some baking like Kari to sweeten up my coworkers since I'll be begging them to cover my class so I can pee all week. Additionally, I'm doubling down on bananas - two per day is my new minimum.
Over the weekend, I took things pretty easy. I hadn't run at all since the Delaware Marathon last Sunday, and Friday I got that feeling.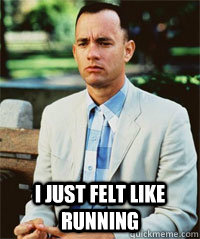 I swear this quote was in my head the whole time.
I did an easy 4 miler. On Saturday, my BFFs Carolyn, Casi and I had a date. We periodically have either GNI or GNOs (Girls Night In or Girls Night Outs) and this time we changed it to GDO - girls day out. We met for a bike ride and picnic in a park, and Casi even brought homemade sangria in a mason jar. I KNOW, how freaking cute are we, right?!
SO CUTE (read in a Penny from Happy Endings voice).
I hadn't been bike riding since maybe....August? September at the latest? I intended to go running before we met, but I sort of forgot bikes require maintenance and by the time I finished greasing the chains and pumping the tires and everything I only had time for 3 miles, so I did another 3 when I got back. We only biked about 5 miles since it started to rain, and exercise wasn't really the point of the outing anyway.
Sunday, I actually managed to get up early to run 8 miles before I had to work at 10. My phone played a cruel joke on me. I checked the weather when I woke up and it said something like 50% humidity, which I was thrilled about. But that was from last night. When it refreshed, it showed me 99% humidity. Great.
Running early in super high humidity is my favorite.
Monday, our faculty meeting was canceled, so I was able to make it to Bikram. I really wanted to do at least one class in between marathons. It's not really on my plan for hydration, but the stretching is just unbeatable.
As you may have noticed, I just got the pictures from the Delaware Marathon. My race pictures are notoriously (at least among my family and friends) the worst ever, and this time didn't disappoint.
At first I was really confused, because it started off with this halfway decent shot, and I was like "is that even me? I don't look the least bit mentally ill."
This one was a little more of the race day Alyssa I'm used to (and clearly taken in the last mile or so when I just wanted to curl up and die), but still better than expected.
Finally I saw this gem, and then felt confident that it was, in fact, me.
I titled this jpeg "God I'm Gorgeous"
This one is hot too. Check out that thigh gap!
#soskinny #getafterit
I don't remember any other races continuing to take pictures of me after finishing, but thanks Delaware Marathon for providing me with several pictures of me looking completely confused and unable to produce my own name.
"Whaa....?"
So I'd say if we could get rid of this 99% humidity crap I'd be in good shape for the Bob Potts Marathon on Sunday! BTW, my friend is looking to get rid of his bib, so someone out there must want to come run with me, right?
What's your favorite all girls activity?

And if I have any male readers, just change it to all men instead of giving me creepy answers.